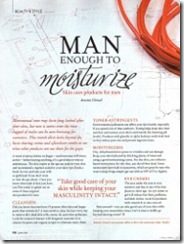 alive magazine is out, and this month I have a men's beauty article published called "Are you man enough to moisturize?" Click on the thumbnail to check it out. It's meant to be informative, but it's also a marketing piece because I mention a few products that potential retail customers might be interested in.
Also, I've recently updated my ePortfolio, which I'm going to recommend to all potential employers from now on. I've been sending out links to the portfolio on this blog, but that page is becoming a bit unwieldy.
Hope everyone is enjoying the twitter feed on the right side of this page. I tend to update it more often than my blog, so it's a good way to see what I'm up to.