Note: Images link to websites.
Forums
Forums are great places to interact with other writers. Join a discussion list and get some feedback on burning issues as well as read articles by other writers.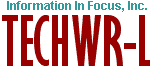 Tech-whirl is an internet based community for technical writers around the world. They have an extremely active discussion list and many free articles.

KeyContent.org is basically an on-line think tank for technical writers and content developers.
Employment
Need a job? Check out these sites for the latest job postings in the technical communication field.

If you're looking for a job in British Columbia's high-tech industry, check out T-Net for the latest career listings.
Blogs
Writers love to share ideas and help other writers along the way. Here are some blogs that are related to technical writing in some way.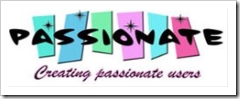 Creating passionate users is a blog about getting people enthusiastic about the tools they use.

This blog claims to be dedicated to technical writing. The posts are often more about blogging though.
There are plenty of other technical writing blogs on my blogroll in the sidebar of my home page.
Tips from Technical Writers
Here are the websites of some practicing technical writers that have additional resources, such as articles and other features.
Michael Bradley is an experienced technical writer. Here is a link to his extensive resources page.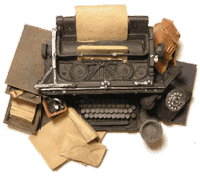 "Bob" has some good stuff on his resources page that is quite useful.
Podcasts
Here are some podcasts on technical writing I think you'll enjoy listening to.

Harry Miller's technical writing podcasts are great because they're aimed at a general audience.
Is technical writing for you? Tech writers Victoria Davisson and Thomas Thompson lay it out for newbies.

Hands down, Tech Writer Voices is the best technical writing podcast out there.
Books
Check out these books if you like the feel of hard copy in your hands. Clicking the link will take you to Amazon.com
The Software Project Survival Guide (recommended by Vancouver's Darren Barefoot) is as an excellent guide to the jargon software programmers like to throw around.
E-Books and online articles
Check out these if you're more of a paperless person. They won't cost you a cent.
Too cool for school? Teach yourself all you need to know.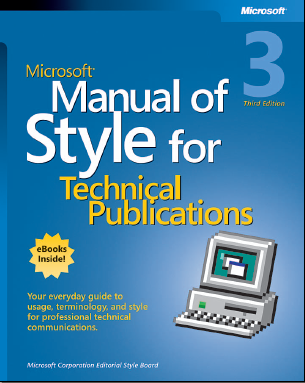 Here is the infamous Microsoft Manual of style – Third Edition. No tech writer should go without it.

The EServer TC Library is a free, nonprofit index for professional, scientific and technical communicators.
Professional Associations
Joining a membership organization is a great idea for networking and to stay abreast of the latest trends in your field.

The Society for Technical Communication is the biggest professional association for tech writers around. It provides plenty of opportunities for professional development and networking.

If you're a Vancouverite, here is the link to the local chapter of the STC.
Web Portals
Want to browse around some more? Here are some links to portal pages. These websites basically contain a bunch of links to other web pages, so require some patience if you're looking for something specific.

High Technology in British Columbia has a plethora of links on all manner of related subjects.

The Writers Write website has an extensive list of resources for technical writers here.